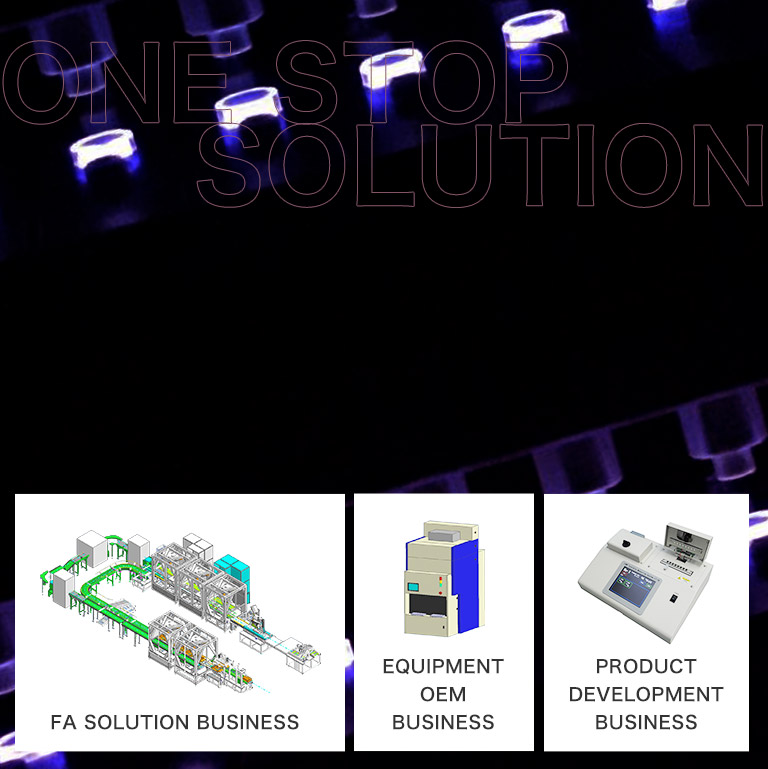 TATEYAMA MACHINE CO., LTD.
Manufacturing capabilities to provide
ONE STOP SOLUTION
About Us
Company Name
TATEYAMA MACHINE CO., LTD.
Founded
April, 1970
Representative
Kaneyoshi Miyano, Representative Director & President
Head Office
30 Shimonoban, Toyama-shi, Toyama 930-1305, Japan
TEL:+81-76-483-4123 FAX:+81-76-483-4014
Outline of Business
Proposal, Design and Manufacture of FA systems, OEM of Precision machines, and Industrial equipments by own original technology
Contact
Shaping your dream as system
We propose FA Solutions based on our unique core technologies of Image processing, Sensing, Nanotechnology and so on, and provide manufacturing solutions by consolidated technology of hardware & software from proposal to manufacture.
FA SOLUTION BUSINESS(SFA Division)
Develop and manufacture automation system for manufacturing process of electronic components, automotive parts, medicines and so on.
Provide ONE STOP SOLUTION from proposal of optimum production system to design, manufacturing and service.
Automobile related system

Medical related system

Food related system
EQUIPMENT OEM BUSINESS(DMS Division)
Design and manufacture FA equipment based on Contract manufacturing
Capable to mass-produce small to large equipment in a clean environment
Electronic component mounting machine

Semiconductor manufacturing equipment

Tablet Printer with Inspection function
Performance
Electronic component mounting machine / Electronic component inspection system
Semiconductor mounting machine / Semiconductor manufacturing equipment / Semiconductor inspection system
Inspection system for Printed circuit board
LCD panel manufacturing equipment / LCD panel inspection and repair system
Various kinds of clean system and precision machine
Possible to support product-design and joint-development
PRODUCT DEVELOPMENT BUSINESS(Business Promotion Department)
Manufacture, Sales and Providing solutions of Low-height autonomous mobile robot
Development, Manufacture and Sales of Laboratory instruments, Gene related products and Plasma system(Atmospheric pressure plasma)
Offer of Metal nano-colloids and Nanocomposite materials
Low-height autonomous mobile robot

Turbidity detector

Atmospheric pressure plasma

Metal nano-colloids

Nanocomposite materials